Removal cleaning with acceptance guarantee Zurich
Removal cleaning with acceptance guarantee - final cleaning by cleaning company
A move to your new flat or house is imminent and you need a removal cleaning with acceptance guarantee Zurich and would like to have the final cleaning and flat handover done by cleaning professionals? Then Total Reinigung GmbH is the right partner for you.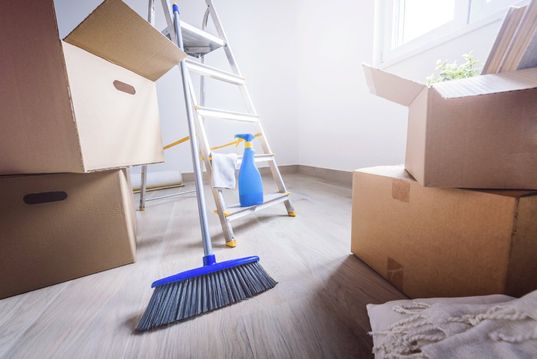 Total Reinigung GmbH specialises in removal cleaning with 100% delivery guarantee
For many years, our team of experienced and trained cleaning experts has been cleaning flats and taking over the handover to the property management. We know exactly which points are in the acceptance protocol of a property management and clean the flat thoroughly. We ensure a smooth process on what is usually a stressful day. Concentrate on your new home when moving, we organise the smooth removal cleaning with acceptance guarantee Zurich.
Guaranteed cheap removal cleaning prices
Flat cleaning is our core competence. Therefore, we can offer you end-of-apartment cleaning including delivery guarantee at very attractive prices. Ask us now for a non-binding offer for a removal cleaning with delivery guarantee. To do so, use our Form or call us free of charge on 0800 6060 00.
As soon as we have received your enquiry, we will arrange a free viewing appointment at your premises. You will then immediately receive our offer for removal cleaning with acceptance guarantee Zurich.
By the way: Many administrations have known and appreciated our cleaning work for years.
Professional flat cleaning where nothing is forgotten
Our cleaning team brings all the necessary cleaning agents and utensils. Cleaning the kitchen and bathroom with special cleaning agents is part of our cleaning service, as is cleaning the blinds, wiping the cellar and cleaning the letterbox.
Frequently asked questions about removal cleaning with 100% acceptance guarantee
What does removal cleaning with delivery guarantee mean?
We fully trust our professional removal cleaning services and can therefore guarantee that your landlord will accept the flat.
Do I have to be present at the handover of the flat?
This is not necessary. The responsible person from Total Reinigung checks all points according to the checklist before handing over the flat. They will also take over the handover and, in the event of a complaint, which happens very rarely, they will be there to rectify it immediately. Especially when moving a long distance, this service saves you a lot of time and kilometres and you can take care of your new home sooner.
Can you take over the flat inspection with the management?
Of course. Moving house is usually a stressful and stressful time. That's why we are happy to take care of the appointment and the acceptance of the cleaned flat for you. We will be on site in good time and inform you after the successful handover of the old flat.
How long does the flat cleaning with 100% acceptance guarantee last?
The duration depends on the size of the flat and the condition or degree of soiling. Small flats can easily be cleaned within one day, a larger detached house can take several days. We can determine the cleaning time during the inspection.
Do I have to provide cleaning materials and utensils?
No. The cleaning team brings all cleaning agents and cleaning utensils with them. This includes special cleaners for removing grease residues in the kitchen and limescale and other deposits in the bathroom. We also remove the sometimes very stubborn residues in the oven. We know the optimal cleaning solution for every type of soiling.
Is the quoted price for flat cleaning fixed?
In principle, yes. The person in charge of our cleaning company has recorded the necessary information during the inspection, which is free of charge for you, and this information was used for the quotation. Due to our experience with hundreds of removal cleanings, we can estimate the effort for the removal cleaning with acceptance guarantee Zurich of your old flat very accurately.
Do you also take care of waste disposal?
Often rubbish and other things are left behind, which must be removed before the flat is handed over. We dispose of waste and rubbish professionally for an extra charge.
Do I need to make preparations for a smooth removal cleaning?
In order for the cleaning specialists to be able to work purposefully and efficiently, the flat should be as empty as possible and without people present. We need keys to flats, cellars, attics and letterboxes for our work.
Why should I book Total Cleaning for my removal cleaning?
A move is always associated with a lot of stress and work. A final cleaning takes time and requires some experience so that the handover to the landlord goes smoothly. As a cleaning company with many years of experience, we know the requirements of a removal cleaning with acceptance guarantee Zurich very well and can guarantee you the highest quality. This is evidenced by the countless top ratings on Google and top-offerte.ch.